CORONAVIRUS UPDATE: Buckmaster is an essential business and fully operational. We're here to serve all your technology needs in this crisis. Learn More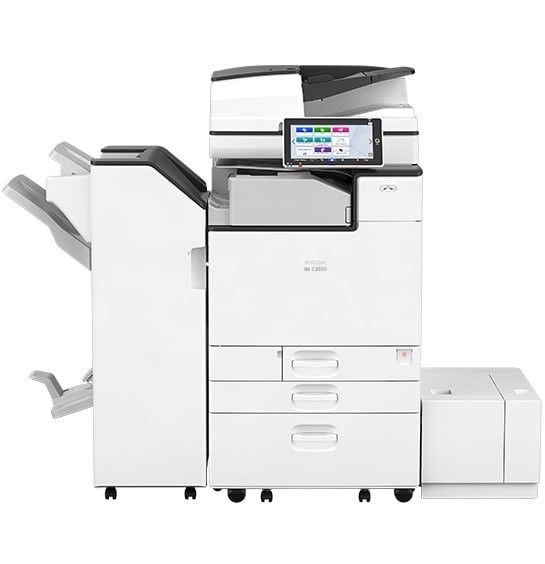 For over 60 years, Buckmaster Office Solutions has consistently grown to become one of Sacramento's leading providers of office equipment and document management hardware and software solutions. Locally owned and operated, we recently purchased and moved into a new 20,000 sq. ft. facility. Our building was designed to showcase the innovative office technology products and services that we offer, as well as support our outstanding, fast and reliable service. We are positioned to help you with the necessary process experience to help your organization run better. When you change a process or workflow, you can improve outcomes, control costs and focus on your core business.
Experience
For 62 years, Buckmaster Office Solutions has maintained an outstanding reputation for providing quality office technology products and services to our customers. Our local presence, strong work ethic, and commitment to helping every customer achieve their goals are what drive us to deliver a higher level of service.
Trust
At Buckmaster Office Solutions, we take a refreshing approach to office technology. We actually take the time to listen to your needs and provide you with real solutions to help you meet your business goals. Our document management specialists will evaluate your business processes, make recommendations for improvement, and then implement a plan to save your business time and resources.
Integrity
Our ultimate goal is to ensure that our products and services meet your expectations or standards and represent a good value for you. We are confident in achieving that goal and committed to our promise. That is the reason why we created the Buckmaster Office Solutions Customer Satisfaction Guarantee, which provides for a low risk purchase and offers the following:
*90 Day Full Money Back Guarantee*
*For Black and White and Color Copiers, Printers and Multifunctionals
In the first 90 days after purchase, if for any reason you decide you are not completely satisfied with any new copier, printer or multifunctional purchased or leased from Buckmaster, you may return it for a full refund of the original purchase price.
Then, an extended 3 Year Satisfaction Guarantee**
After 90 days, if you are not completely satisfied and your equipment does not operate within the manufacturer's specifications, Buckmaster will replace it with an identical model or one with comparable features and abilities.
**This guarantee will be effective for 3 years following the money back guarantee, or the term of the finance agreement or lease, whichever is greater. This guarantee will only apply to equipment that has been continuously maintained by Buckmaster under a full service maintenance agreement and has used authorized supplies from Buckmaster. All accounts payable to Buckmaster must be current. This guarantee will not be applicable to equipment damaged or destroyed because of customer negligence or misuse, improper power, or an act of God.
What Our Customers Are Saying
"Everything is going really good! We were looking at another vendor and decided to go with Buckmaster because of your customer service. Steve Borba was very helpful throughout the buying process."
Elevator Industries, Inc.
"You guys are great! We absolutely love your technician Melinda!"
Manual Joseph Appliance Center
"You are all very nice, competent and down-to-earth and friendly. Your technician, Jim, is always awesome and really knows his stuff. Everyone was so easy to work with during the sales process. Phil Frost really listened to our needs and was willing to negotiate. We got the right product at the right price."
Arden Hills Athletic & Social Club
"You guys are awesome! Whenever we need anything for the office, we call you. You are always there for us and very reliable."
"Your service staff is so nice and helpful. I'm beyond impressed with your degree of professionalism. All of our initial issues have been resolved; you guys jumped right on it. I'm very happy with the way things turned out and love the machine."
"We've been with Buckmaster Office Solutions for over 25 years! Our school uses all of their copiers and equipment and we couldn't be happier with their service and staff. They have been loyal and dependable and always right there when we needed them. We educate primary, middle and high school level grades and have several of their machines throughout our campus. They've never hesitated to come out and help us. Their service is phenomenal and we highly recommend them."
Sacramento Country Day School
"These guys are the best. They take care of our office for all our needs. I wouldn't work with anyone else in Sacramento. They're quick to respond to any issues that pop up and always have an answer. They don't just sell you products and bail like some other shadow office solutions in the area do once they get a sale. I'd give them 10 stars if I could! If I ever end up working anywhere else, I'll be sure we only use Buckmaster as our office solution. Phil and his team couldn't be any more helpful!"
"Phil Frost is a Rockstar. He is always willing to help, knowledgeable and a great resource. When we were shopping for a company to work with, he did what we asked. Most did not. I would highly recommend Phil and the team at Buckmaster."