Efficient. Reliable. Affordable.
All About Office Products
Buckmaster Office Solutions can help your company determine what office technology will work best for your unique business needs. No matter what industry your company serves, there are a number of technology solutions available that can help you accomplish more, comply with industry regulations, provide security compliance, and protect proprietary information.
We are uniquely positioned to support your business workflow and the technology that supports your office investment with:
Over 60 Years of Industry Experience
Or, call us and speak to someone immediately, 916-923-0500.  A live person is always available from 8am to 5pm PST M-F.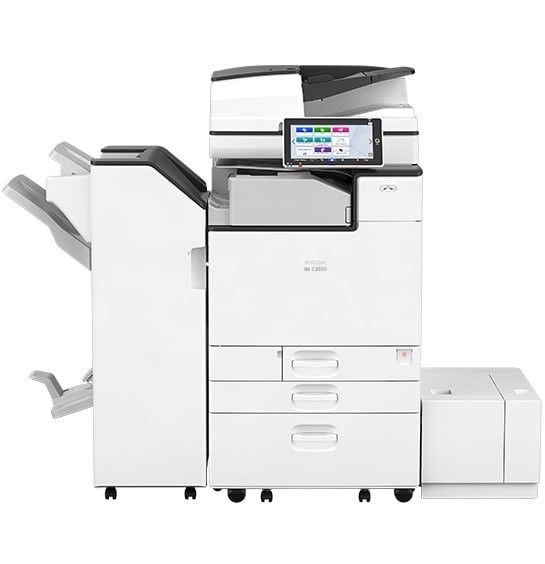 MFPs (Print, Copy, Scan, Fax)
Shredders and Finishing Products
Document Management Software
We're a Ricoh RFG Circle of Excellence Certified Dealership for the last eight years and counting…
Each year Ricoh USA Corporation honors the top Ricoh dealers in the US, with the Circle of Excellence Award. The prestigious award, is based on a number of qualifications including technical expertise, efficiency, response times, the quality of overall service, and customer satisfaction. Less than one third of Ricoh dealers receive this award nationally.
We are honored to be selected once again for the elite "Circle of Excellence Award" as this represents our eighth consecutive year to receive the award.
Copiers and Multifunction Printers
At Buckmaster Office Solutions, we offer the best technology available for copiers and multifunction printers (MFPs) with the award-winning Ricoh product line. In today's competitive business environment, how your brand and messages are displayed can make a big difference on your bottom line. With plenty of choices in speed, size and capabilities, we can help you select the best black and white or color copier or MFP and features that will work best for your workgroup, office or classroom. Contact us today and discover how our smart technology, superior image quality and document sharing tools can help increase your business productivity.
Printers
Whether you have a small business or a huge office, Buckmaster Office Solutions has a wide range of black and white and color printers with incredible image quality, easy-to-use features and convenient connectivity options, including wireless networking and mobile printing. We can help you determine the number and type of printer that will best meet your organization's output needs as well as the most cost- effective supplies and maintenance program.
Production Printers
The success of your business depends on technology than can help you achieve your productivity and profit goals. Buckmaster Office Solutions has several production printers in our Ricoh product line up that are designed to meet the special demands of fast-paced, high-volume production environments in business, healthcare, education and government. You can produce projects in-house, fast, on a wide variety of media from plain paper to cover stock. These production printers are perfect for printing customer communications, policy and instruction manuals, booklets, classroom handouts, testing materials, flyers and more. In addition, there are several finishing options like binding and stapling, to complete your project.
Wide Format Printers
Image matters. And for architects, engineers, contractors and graphic designers, the right image can be the key to landing an account, winning a bid and maintaining a reputation. Large format printers serve a wide range of printing needs, from poster production to CAD applications. Buckmaster Office Solutions can help you choose the right black and white or color model for your specific requirements. And, with a Canon or Ricoh wide format printer in-house, you can regain control of your workloads and turnaround times, plus save money, because the there is less need to outsource.
Digital Print & Finishing, Mailing Solutions, Pressure Seal, Data Destruction
The Formax product line has been developed with you, the customer in mind.  Reliable, dependable, and user friendly equipment you expect and derserve.  Formax offers an expansive product line for specialty printing, print finishing, mailing, data destruction, and more.  Formax systems are found in local print shops to Fortune 500 companies improving productivity and efficiency.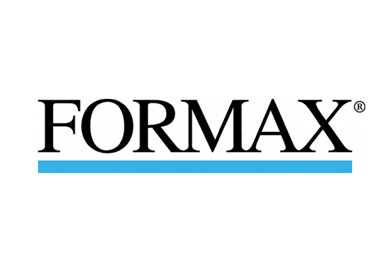 Shredders
The F.B.I. estimates that U.S. businesses lose tens of billions of dollars every year due to theft of company data. All the electronic security measures in the world are useless if you're throwing out confidential documents, CDs, DVDs and hard drives. The surest and most economical way to protect your company from data or identity theft is to shred sensitive information in-house, at the source. When you hand over documents to an outside service, you relinquish control of your data security. Shred services are also a recurring expense which will only increase over time. Buckmaster Office Solutions offers the Destroyit shredder line from MBM Corporation, featuring deskside to high capacity models. Let us help you devise an in-house shredding program to safely dispose of your confidential data as well as meet privacy law requirements.